Allow David Galullo, chief creative officer of Rapt Studio, to walk you through one of its most recently completed projects: developer Unity's new San Francisco headquarters.
Process: We've just finished [building Unity's offices in] Montreal and Seattle and Copenhagen, but this was our first, so we took, you know, six months to do a full deep discovery process with them to try to understand what the culture was about, what the driving force was, what the DNA of this kind of still kind of rapidly growing but youthful kind of group was. So we took about six months to work with them on program and design and then about another six months to build the space out. So it was about a year, start to finish.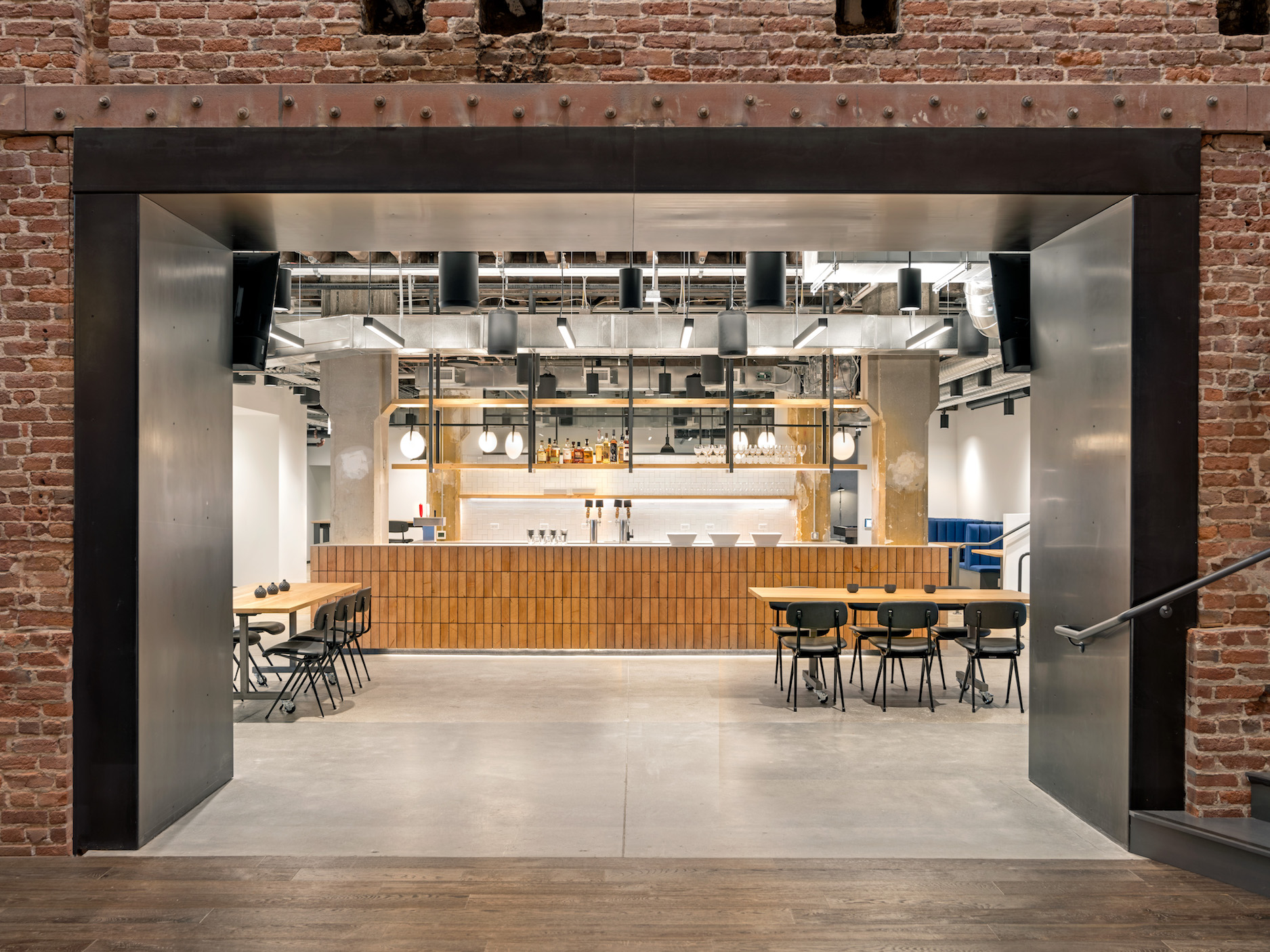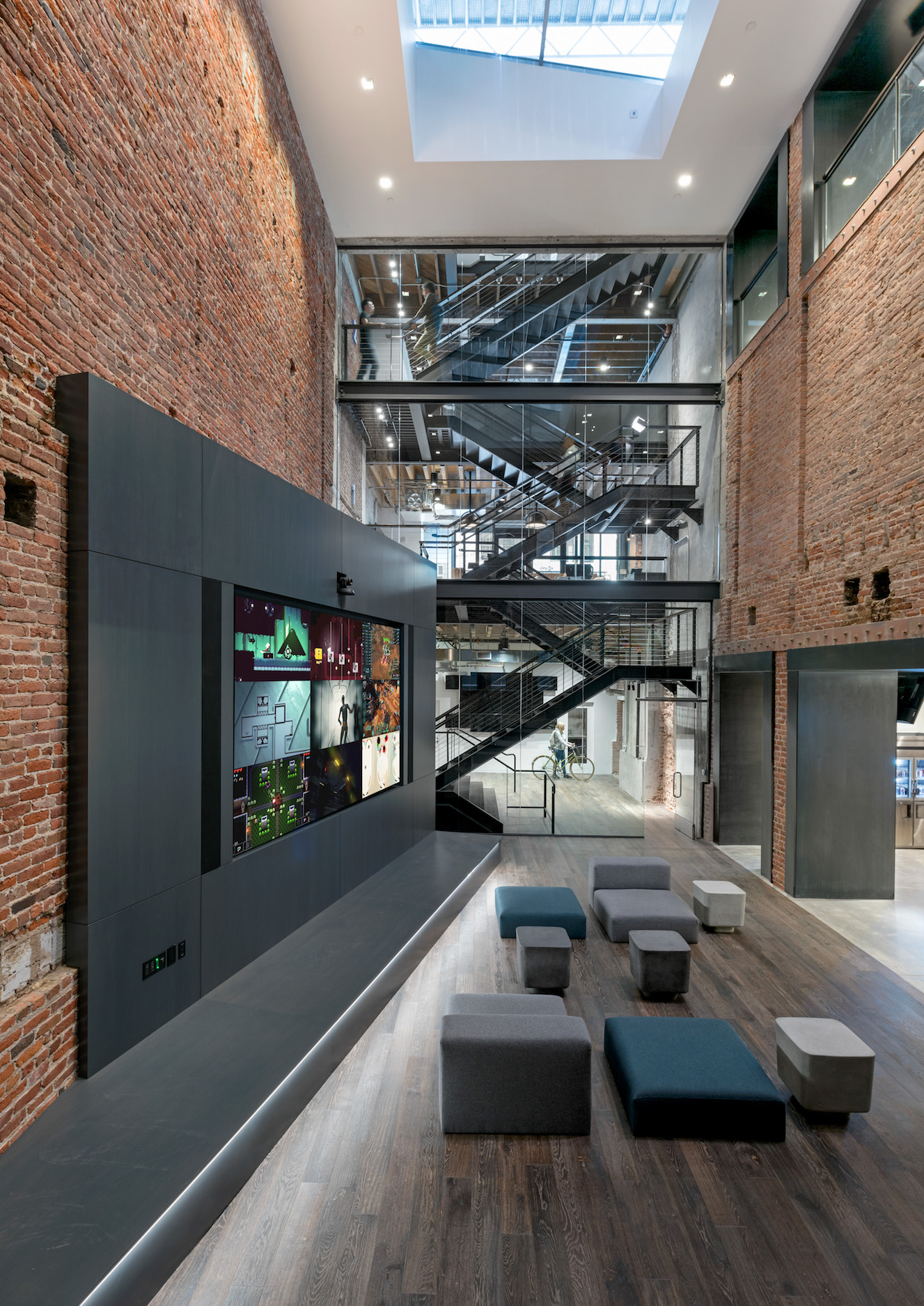 Interior décor: They were really pushing for the idea that they didn't want anything that seemed like an office space. They wanted it to be just a comfortable vibe such that, you know, these people spend their lives building, you know, alternative universes for video games. So the vibe overall is a little bit dark, which allows for what's happening on the screen to really take hold.
A lot of what they're doing is virtual reality/augmented reality, so there's a lot of that happening in the space. So we really tried to make it almost like a loft apartment, that you exploit the brick and the existing columns and just make it a really beautiful kind of relic, if you will. So while they're creating new worlds, it's almost like they're sitting in this ruin of the old world. And then what we inserted was very clean. The furniture has kind of amodern but comfortable vibe to it. I wouldn't say necessarily midcentury, but along those lines: wood, darker fabrics, kind of low slung, comfortable furniture. So I think the vibe, I'd say, was kind of comfortable, non-corporate and the feeling of, you know, this, this loft apartment.
Sustainability: I think, you know, "sustainable" is a weird word these days. [Laughs]
The interesting thing about this project is that when we saw the project, the landlord was kind of doing some base building upgrades, and so the basement level, which ended up being kind of the main gathering level with a bunch of kind of game rooms and meeting rooms and the main kind of cafe area, was just a pile of dirt. And they had pulled some of the structure out to do an upgrade, and so there was just a stack of these floorboards that they had pulled out and were waiting to go to the trash somewhere. And we were like, "Okay, what are you doing with those?" [Laughs]
So we literally…the main reception desk and the main bar kind of café counter are all built out of planks that were basically pulled out of the building. So we built the new portions of the building out of the old portions of the building that we kind of tore out, and really were concerned about kind of the vertical nature of this building. So the atrium that lands in the basement level and kind of connects to the main public area, that glass there in that atrium bringing light all the way in through the space, really was a way to use what could have been kind of the downside of the existing building, to, you know, to the benefit of the inhabitants. So sustainability's funny, because people will go in and rip everything out and then use materials that have been sourced from someplace else.
We sourced the material, a lot of the materials, from the rebuild, just from what existed. We didn't feel the need to cover it with something that was, you know, a green material. We exploited everything that was there, even to the degree of building new things out of some of the old demo'd materials. We're pretty proud of that, and I think the space is really a comfortable, warm space because of it. That's our kind of our big takeaway there.
It was our first project with Unity and, and they really wanted to do something special, but they didn't really know what that meant. We have since done projects for them all over the globe.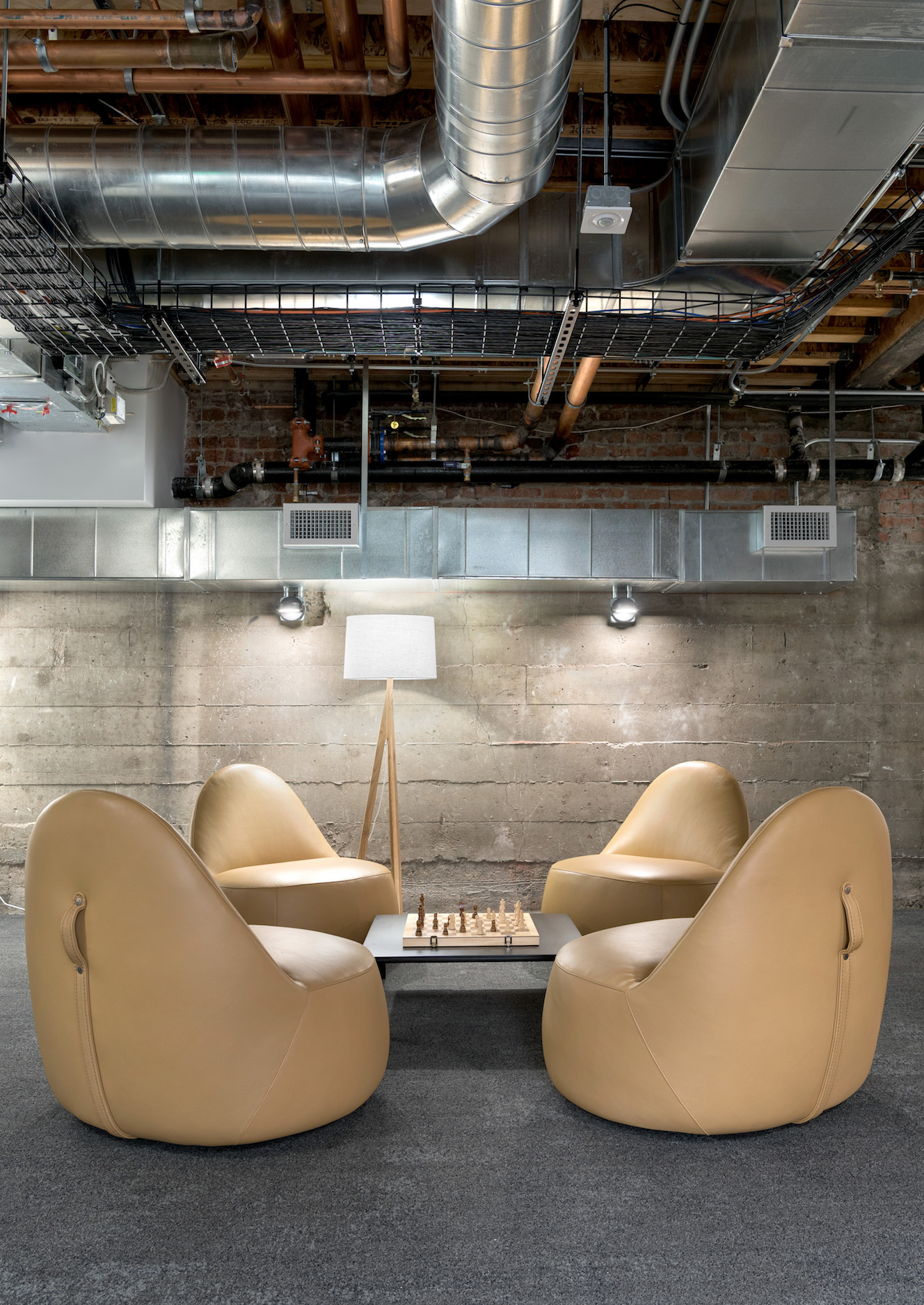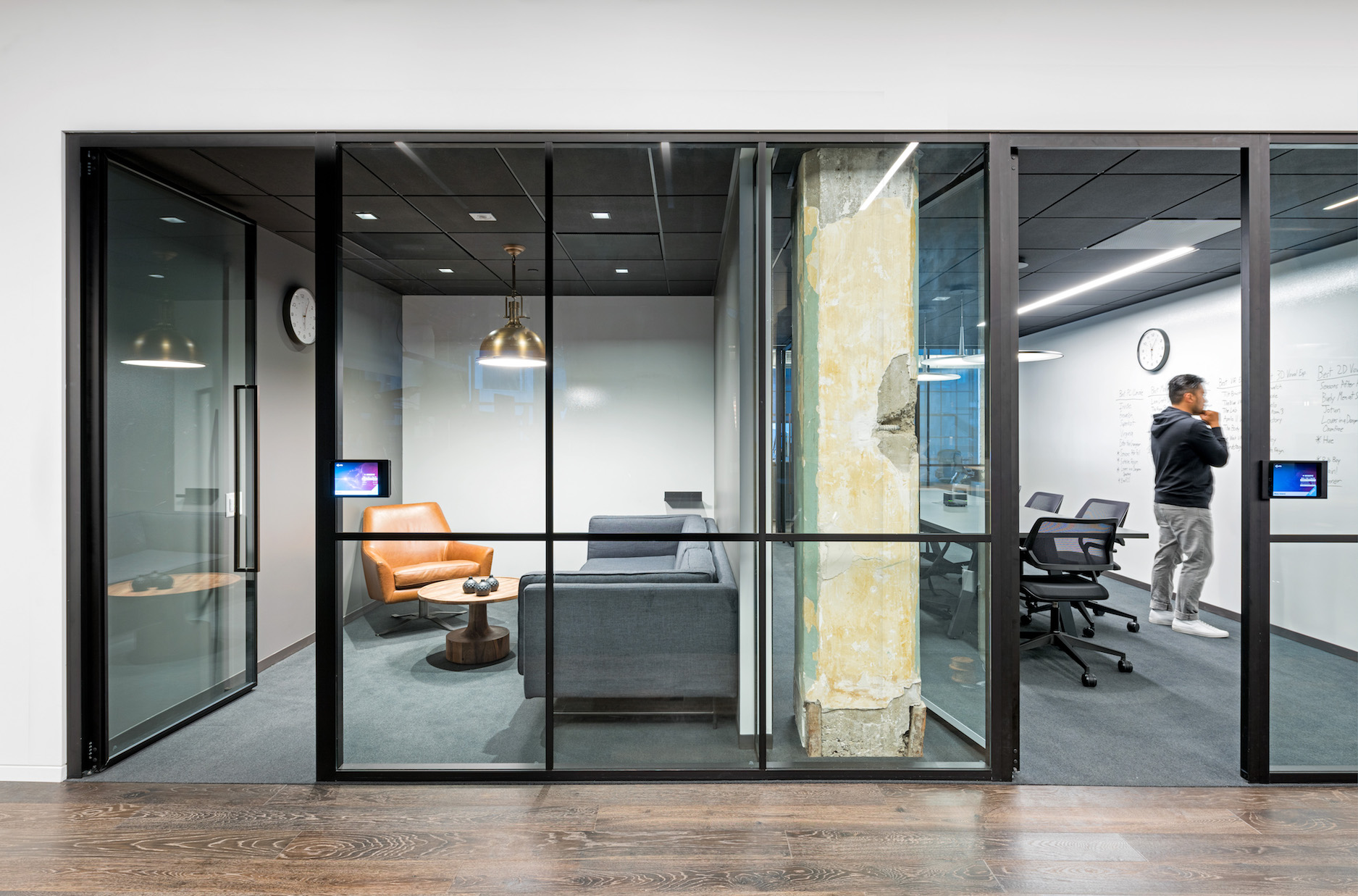 Challenges:
 I guess the biggest challenge was that there was base building upgrade work being done while our tenant work was being done, and … not that having that work dovetailed was a bad thing—it actually was a good thing because we were able to really have our Interior planning adjust and manipulate the base building upgrade. We were able to cut openings where there were none and really made much more of it than we otherwise could have, but it's always hard to design a space within an existing space, 
trying to utilize as much of the existing space as possible, but having the existing space go under a transformation at the same time. 
So part of it was just kind of imagining this new, all of the pieces falling into line together and making sure that we were dovetailing our design and construction process with the upgrade of the building such that the seismic upgrade wasn't happening so far in advance that we lost opportunities to actually adjust the base building or it wasn't happening too late, such that our work would be delayed. So, I think from a schedule complexity standpoint, that was probably the biggest challenge.
And, you know, they were upgrading, they were installing new elevators, so there were no elevators in the building, so as we were doing multiple floors of interior work, all the materials had to be hoisted up the side of the building or carried because there were no elevators. So just the complexity of those two things happening at the same time [was a challenge].
Upcoming:  So, [the Unity office in] Montreal is just finished, and [the Unity office in] Seattle is just behind that. Copenhagen is under construction at the moment. We just finished Tokyo, Helsinki, Brighton. So we have a bunch of their offices under our belt and taking the same kind of vibe, but accommodating kind of local culture or local leadership and kind of taking the vibe on the road, if you will, and giving it a slightly different flavor depending upon the location, but making sure that when you walk in, you automatically know you're in a Unity space.
(Photos: Courtesy Rapt Studio)
For More Information About This Blog Post, Click Here!