Keith Chan, of Hintegro, has created a Pok Fu Lam flat for a mother, her son, her daughter-in-law and her grandson, the space tied together with the matriarch's favorite colour.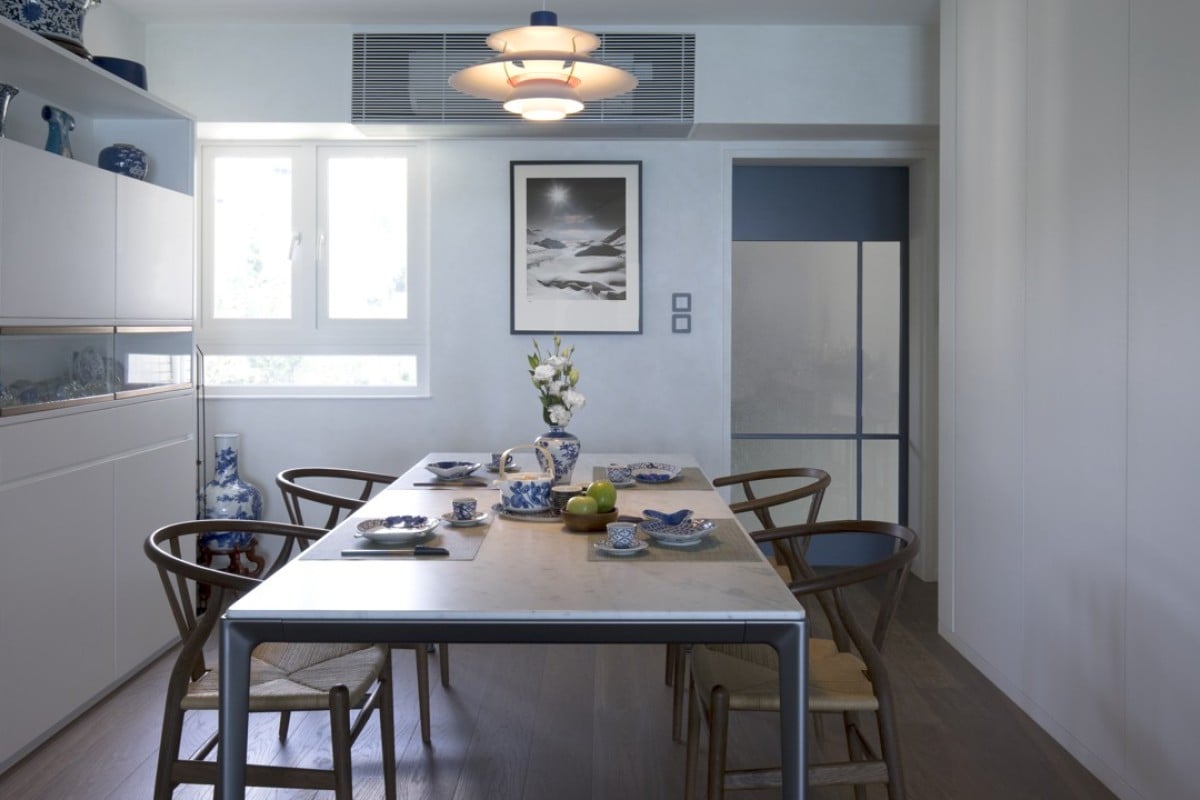 Most renovations involve compromises, but this multi­generational home presented more challenges than most for its interior designer, Keith Chan Shing-hin, who had to future-proof the flat while creating common ground for all concerned.
"Everybody in the family had a say in the design," says Calla Cheng. "It was a challenge for Keith because it was like dealing with three clients – me, my son and my daughter-in-law. And we all had different opinions and tastes."
Fortunately, the biggest decision had already been made: the 2,300 sq ft flat in Pok Fu Lam would accommodate both Cheng, who is retired, and her son's family (the couple have a toddler).
"We thought about buying two flats nearby and then we decided to live together," says Cheng. "It was a compromise in terms of the design and how to allocate space."
That's where Chan, of Hintegro, stepped in. Aware that privacy and individual space were crucial, he reconfigured the original four bedrooms so no one would feel cramped, size-wise or when it came to style. Soundproofing was imp­ortant, as was flexibility: a play area-cum-work room has been designed so it can later be partitioned should an extra bedroom be required. Cheng's room, a 500 sq ft suite inspired by her favourite luxury hotels, is self-contained and includes an en-suite bathroom and pantry as well as space for a tele­vision, piano, dressing table and desk.
Fitting all that in meant squeezing the living area, although it remained large enough for a generous sofa and a fireplace, plus easy circulation around the pieces. It is here that the minimal but meaningful ethos guiding the purchase of homeware is clear.
The living room is memorable, however, for one main reason – its full-frontal sea view, optimised by widening the balcony doors. Satisfying Cheng's colour obsession, sky and water tones were repeated inside, for the feature wall ("We spent hours to get that blue," says Chan) and sliding doors ("My daughter-in-law found the style, I found the colour and Keith did the proportions," says Cheng).
Dressed in a T-shirt by 45R, the Japanese brand famous for its indigo apparel, Cheng acknowledges having had to concede on some of the 10-plus shades of blue that can be found in the flat, even on items such as switch plates.
"I suggested she wear blue [lens] glasses," Chan jokes, adding, "Sometimes the blue she loves is very bright. If it's on a cup or dish that's fine, but for a big wall or doors, I counter-proposed, toning it down to a greyish blue."
The effect is a consistent calmness picked up in the kitchen, where Chan created dry and wet areas to make the most of the available space. Slate-grey Poggenpohl cabinetry from Cheng's previous home stands beside a bench table made with leftover materials.
Proper sit-down meals are taken in the dining room, which flows from the sitting area and leads into the kitchen. Cheng bought four Hans Wegner-designed Wishbone chairs for the table, having heard her daughter-in-law, a fan of mid-century modern design, mention his name. Cheng also chose a classic lamp of that era, by Poul Henningsen for Louis Poulsen – although the pendant light also suits her own sensibilities.
"I thought I'd get it because it's the right kind of blue," she says.
It is a compromise but it has worked out. It was a big sacrifice on my daughter-in-law's part. She was so kind. I'd like you to say that
Of course, she had no one but herself to please in her own suite, where blue shows up on everything from the intricate tiles in her shower, to a kettle, cupboard doors and a lamp hanging above her dressing table (a gift from her daughter- in-law).
Unbeknown to Chan, who had accompanied Cheng to a curtain shop to order her window dressing, her heart was also set on the colour for her block-out blinds.
"He said, 'white', but I secretly changed it to blue," she says, prompting laugh­ter all around.
Seriousness returns, however, when Cheng reiterates the realities of sharing a home in her golden years.
"It is a compromise but it has worked out," she says. "It was a big sacrifice on my daughter-in-law's part. She was so kind. I'd like you to say that."
---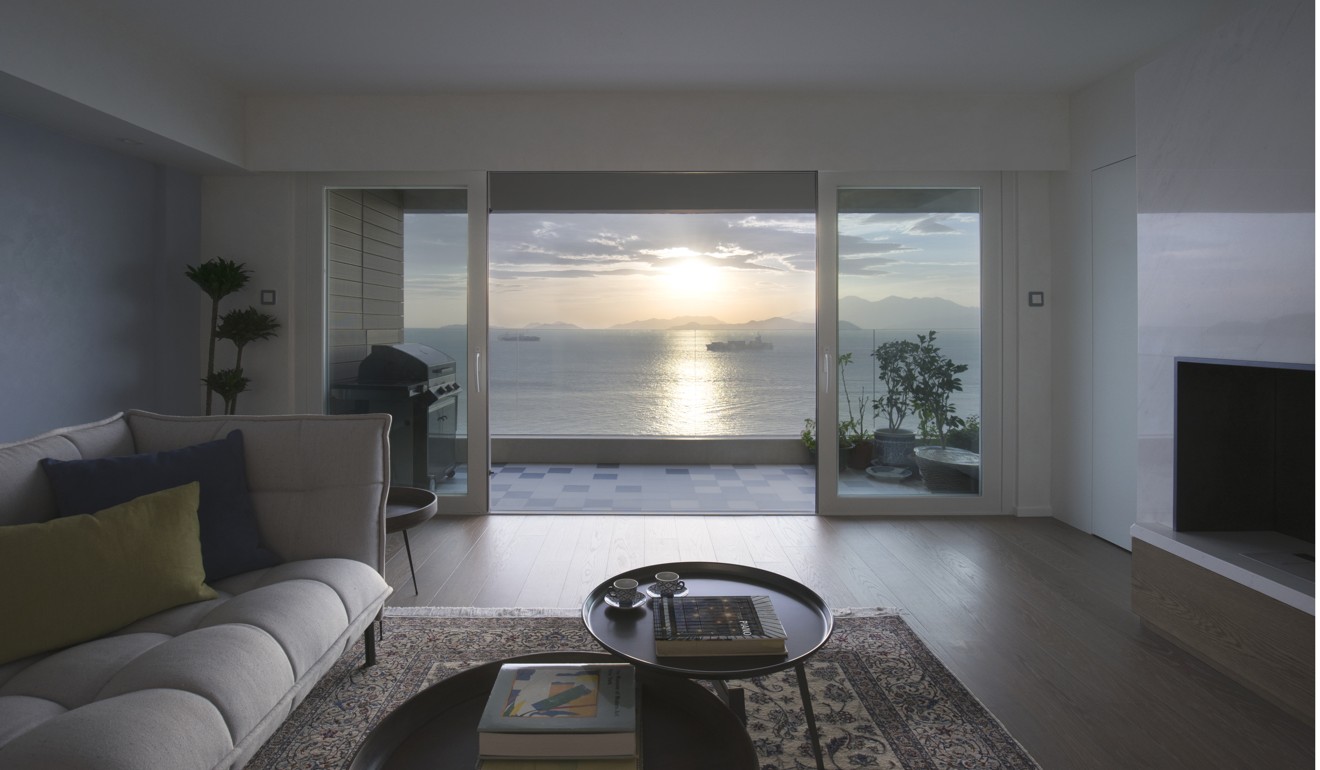 Living area The flat enjoys ever-changing sea views, complemented by a feature wall painted in a blue specially mixed by Lezard Design and Contracting. The Husk sofa (HK$111,300) and metal table (HK$10,200), by B&B Italia, came from Colourliving.
The two wooden Mater coffee tables (HK$4,960 for extra large; HK$4,070 for large) were from Manks. The oiled oak planks (HK$1,490 per square metre) came from Equal and the Mutina balcony tiles (HK$38 each) were from Anta.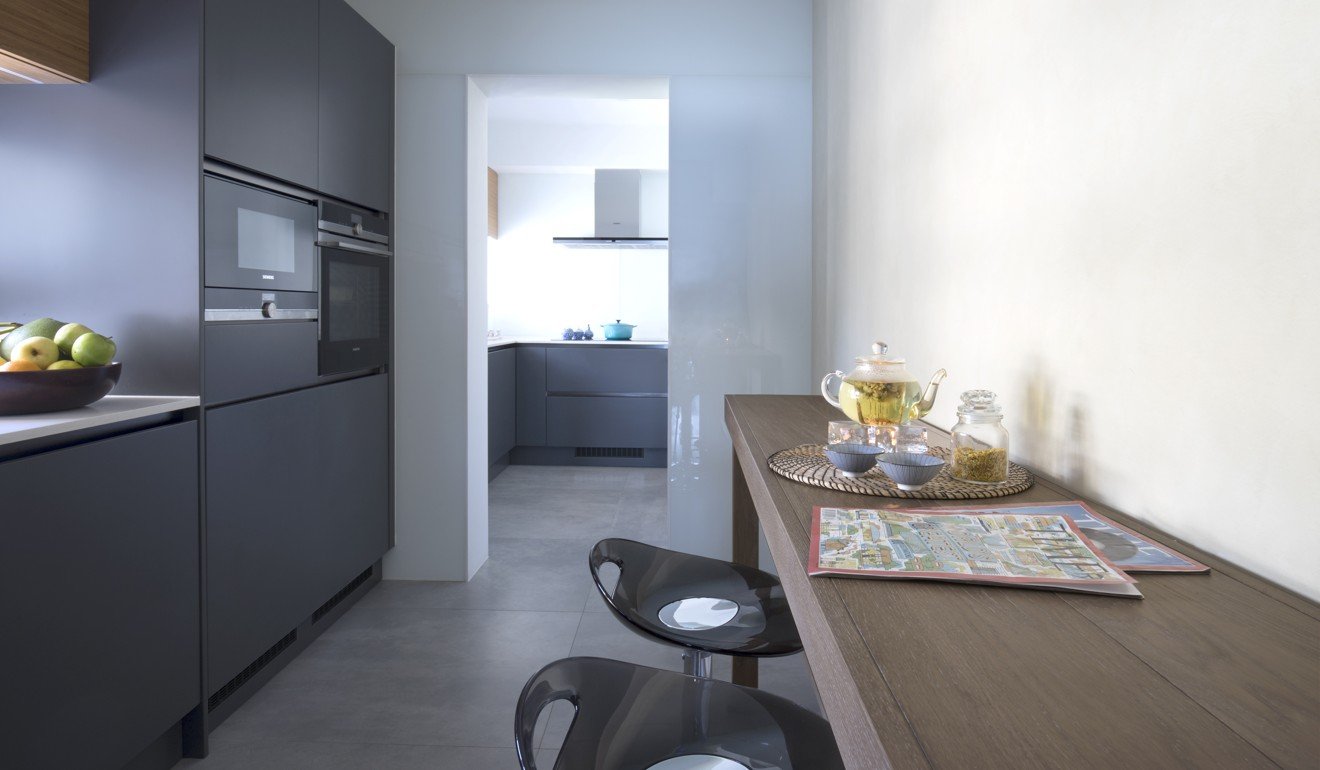 Kitchen The Poggenpohl kitchen came from Calla Cheng's previous home, as did the Samba stools, which were from Arredo3.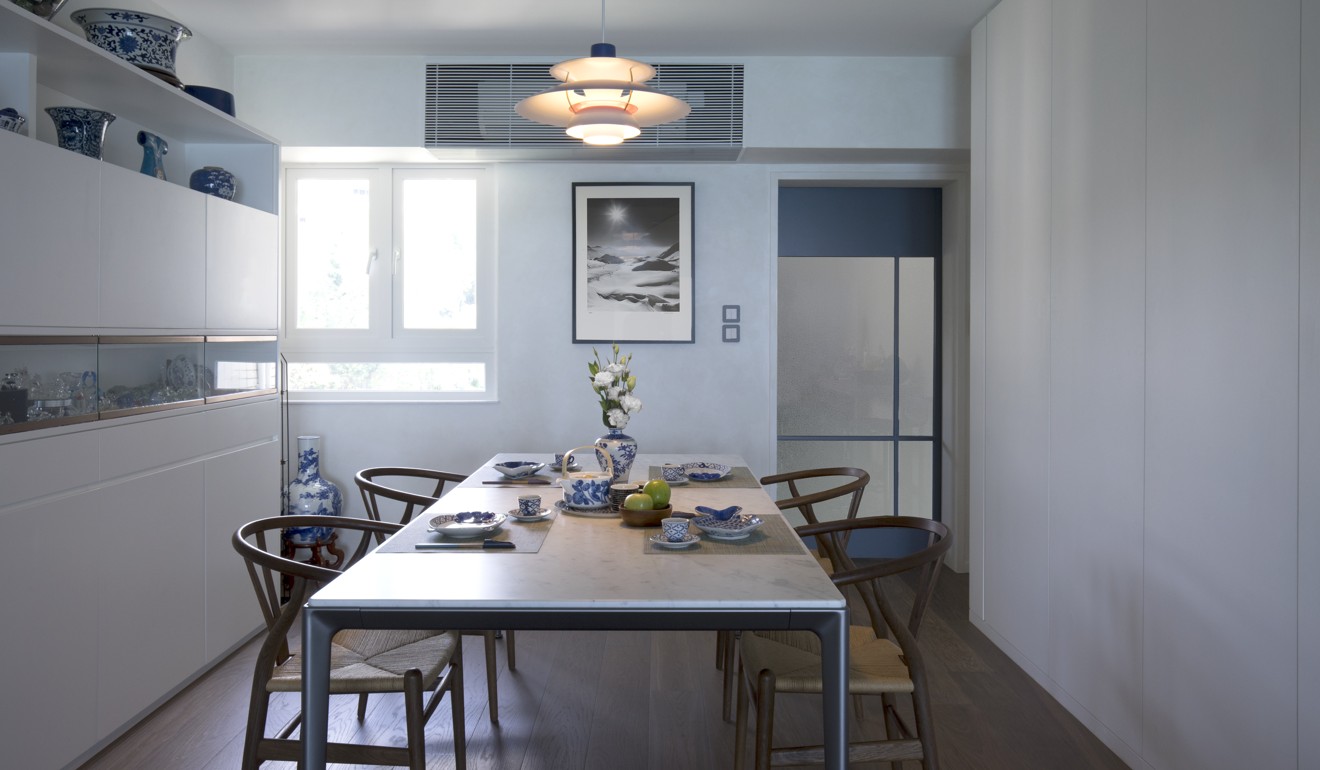 Dining area The B&B Italia dining table (HK$91,200) from Colourliving is teamed with Carl Hansen & Son chairs (HK$8,490 each) from Manks, also the source for the Louis Poulsen lamp (HK$8,200).
The display cabinet (HK$28,000), designed by Keith Chan of Hintegro, was built by Galaxy Contracting (tel: 9486 0311), as was the shoe cupboard (HK$48,800) on the opposite wall. The photograph was taken by a friend of Cheng.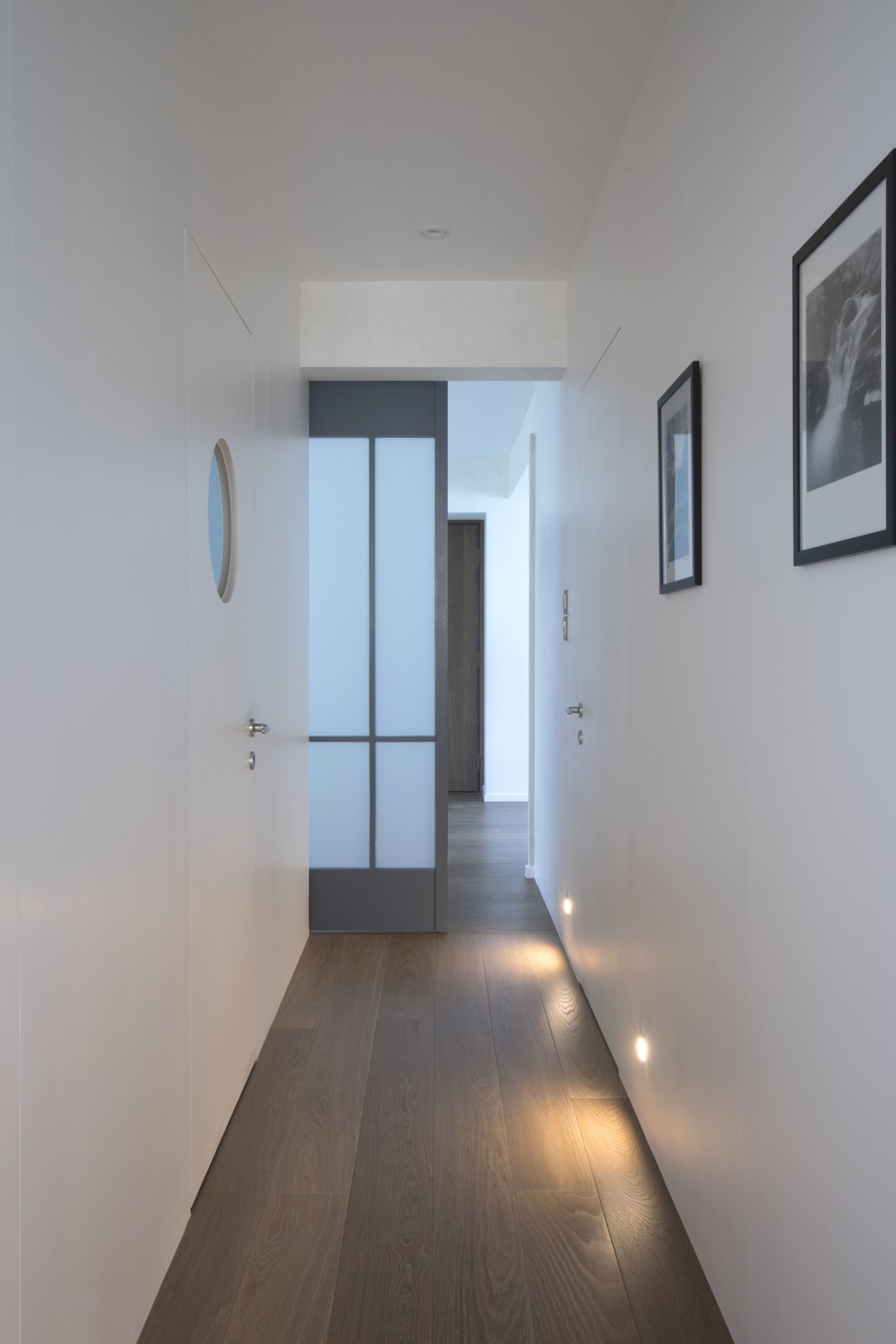 Corridor Closing off the private side of the flat is a blue/grey sliding door (HK$15,800) designed by Hintegro. The porthole door is attached to the child's room.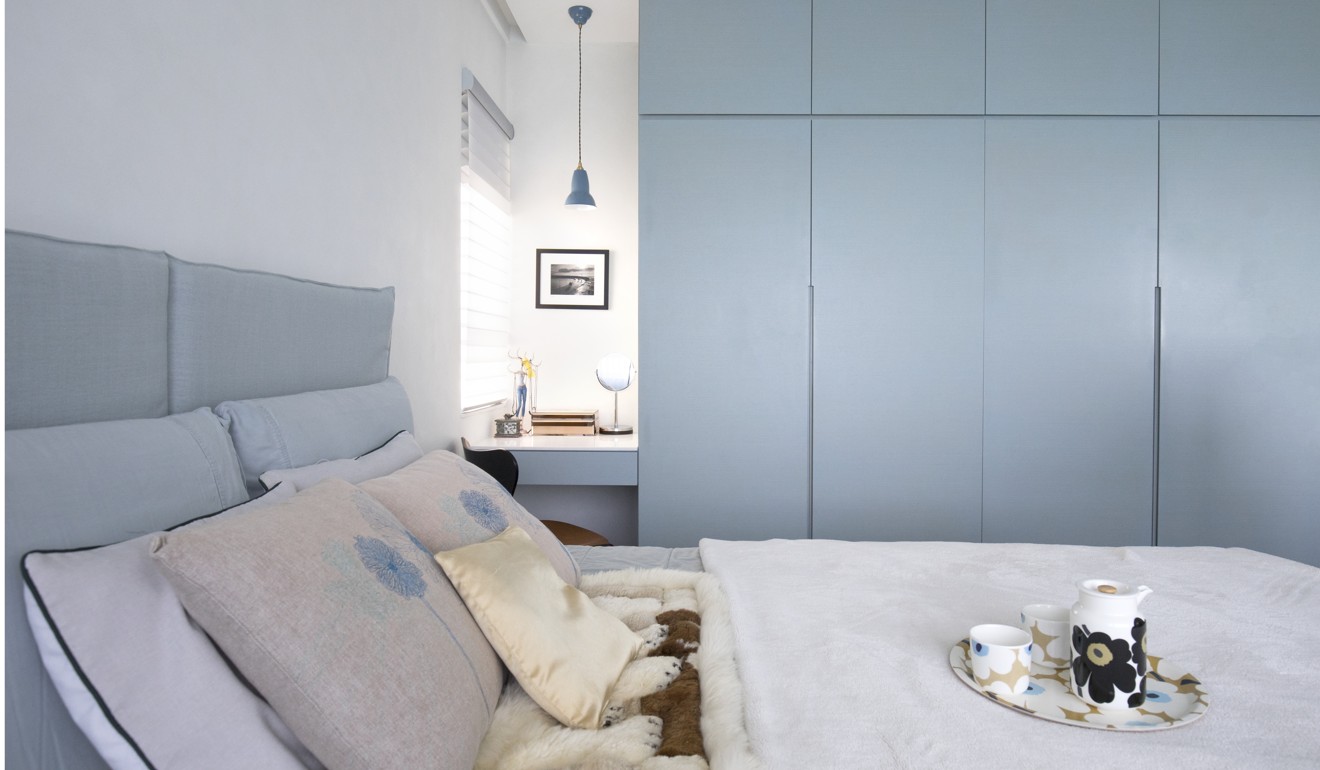 Suite The size of a flat, Cheng's suite accommodates a pantry, a work area, a dressing table and a piano. The Anglepoise pendant lamp (HK$1,500) over the dressing table was bought on eBay.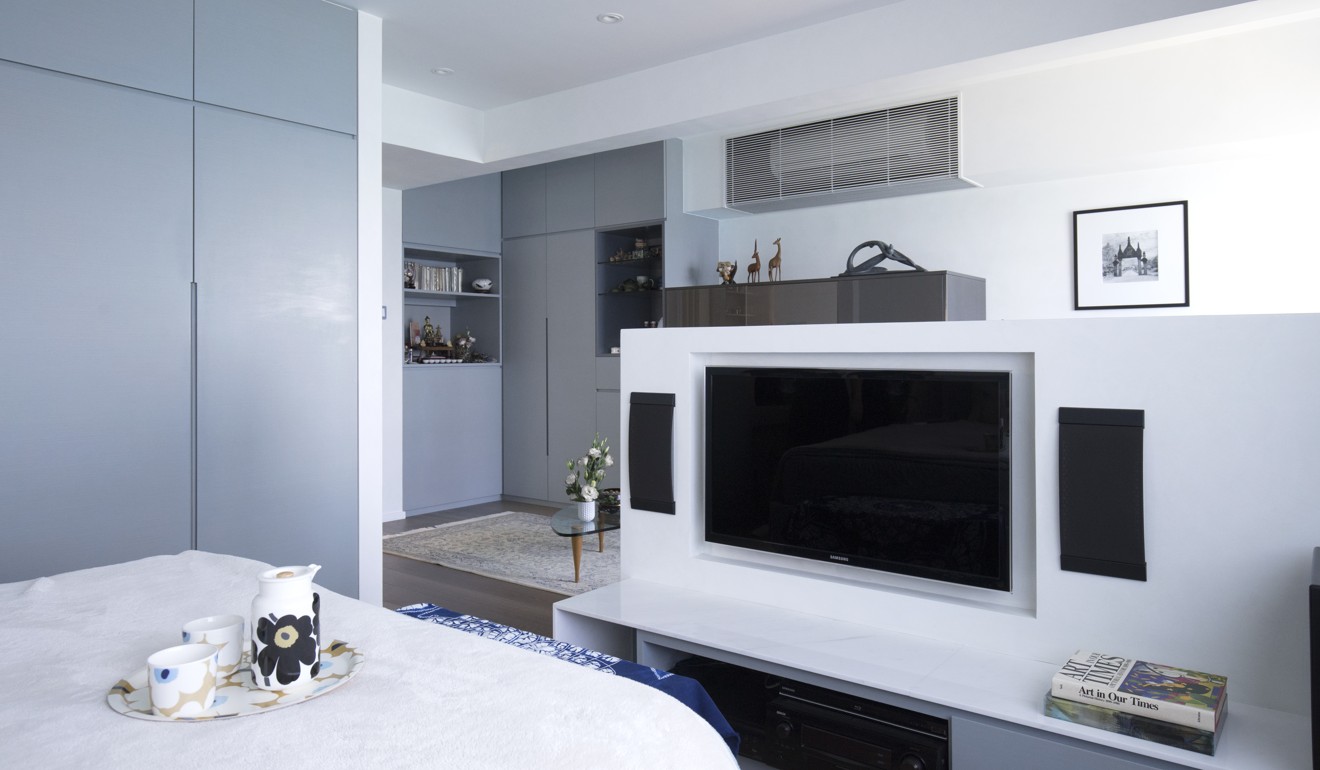 Suite detail Beneath the air conditioner is a Poggenpohl cabinet, which was a gift. The television unit (HK$21,500) was designed by Hintegro and made by Galaxy Contracting. The rug and coffee table came from Cheng's previous home. The jug, mugs and tray came from Marimekko.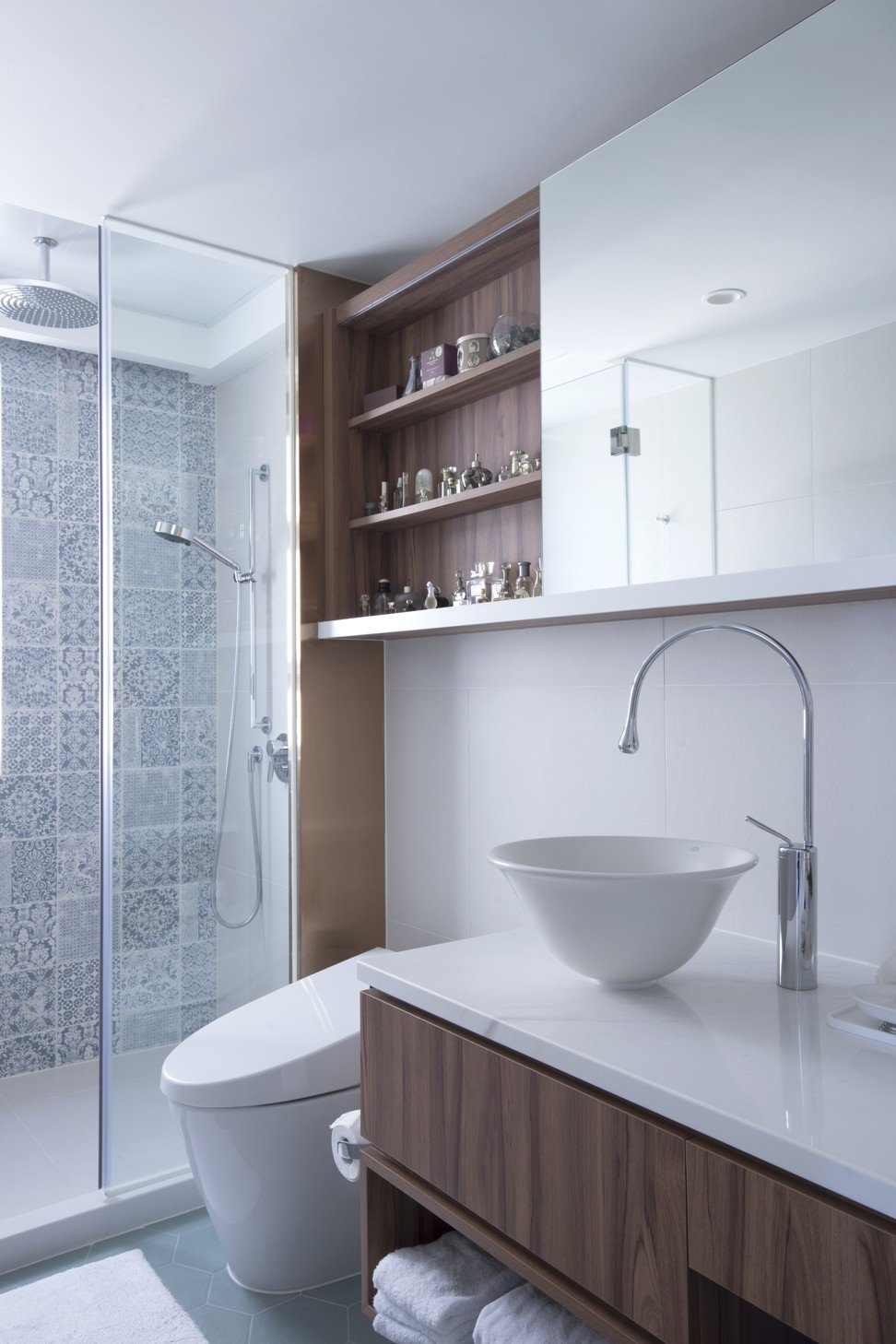 Cheng's bathroom The Unica tiles (HK$60 each) in the shower came from Colourliving, which also supplied the Gessi basin (HK$14,500) and tap (HK$8,300). The counter (HK$22,430) and overhead shelving (HK$11,000) were designed by Hintegro and built by Galaxy Contracting.
---
Tried + tested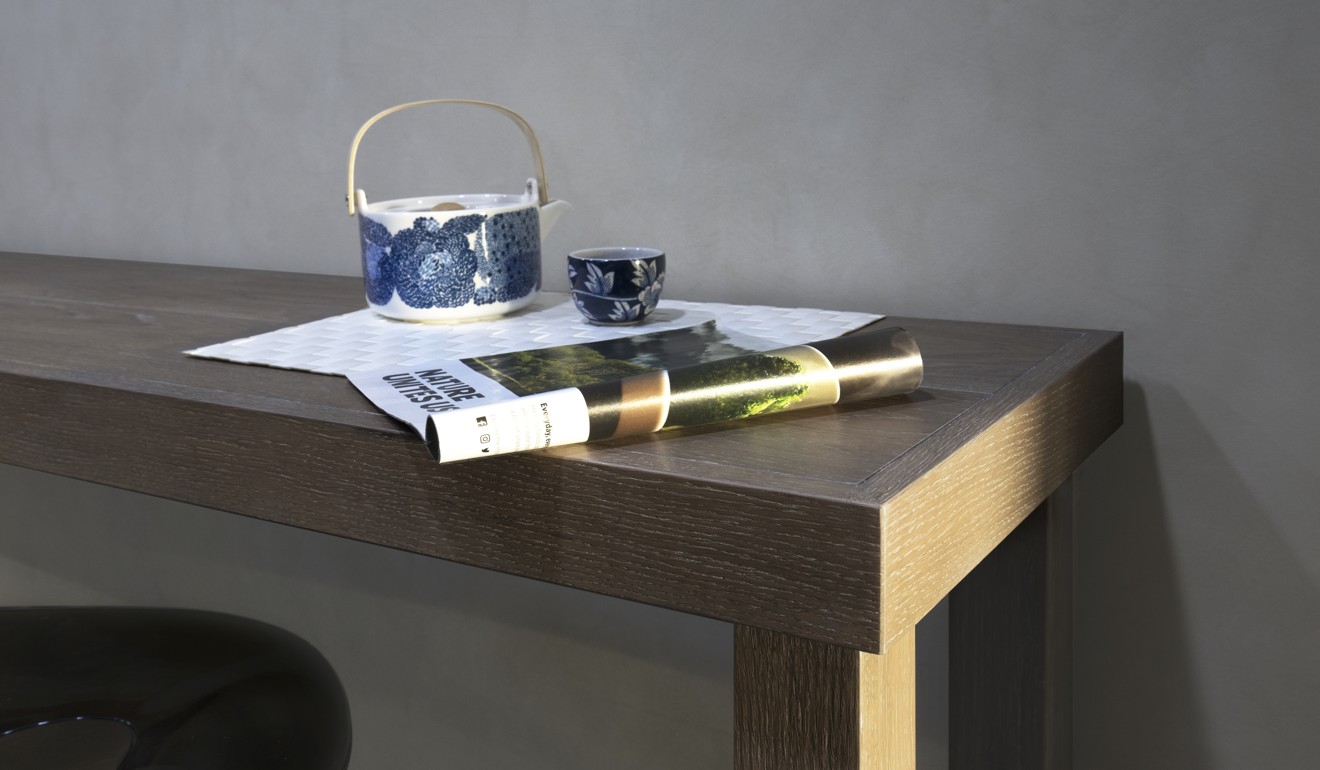 Touching wood What can you do with wood flooring scraps? Pinterest shows them used for, among other things, picture frames, door mats, wainscoting, trays and, if there's a lot leftover, wall cladding.
The family in this flat used spare plywood to make their Christmas tree last year. They also got creative with six surplus floor planks, which would otherwise have ended up in the landfill – like the trees felled by Typhoon Mangkhut. Using the extra material, Keith Chan, of Hintegro, designed a breakfast bench (HK$10,000) with matching solid-oak frame.