Home decor trends are cyclical,but a mid-century modern revival always seems to be on the horizon. You've probably seen the trend in at least a few stylish living rooms. There, it takes the form of low-slung couches, statement-making chairs, and sidebars stocked with all the makings of classic cocktails. However, 1960s trends and mid-century modern designs sound like they'd look more than a little outdated in the kitchen, where most people want the latest appliances and technology. Yet surprisingly enough, midcentury decor trends seem to be having a moment in the kitchen, too.
Check out the 1960s kitchen decor trends that are actually back.
1. Formica countertops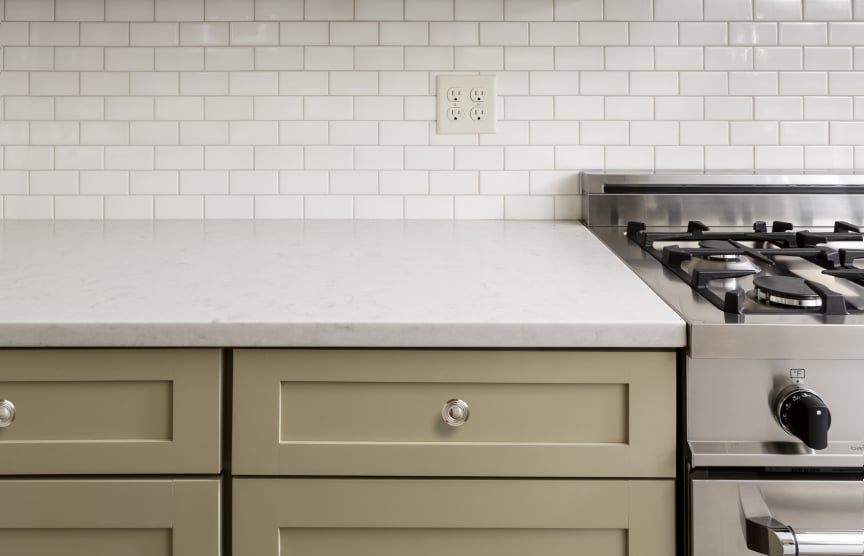 Put on an HGTV show — any HGTV show — and you'll quickly deduce that most people think of marble and granite as the gold standard of kitchen countertops. But as Apartment Therapy reports, an unlikely 1960s kitchen trend has started to come back: laminate countertops. "While some of us may cringe when we think of this countertop choice for the kitchen, it's changed a lot over the years," the publication promises.
In the past, laminate countertops came in bright colors and very specific patterns. That often limited their versatility. Formica itself still makes a line of retro countertops perfect for a mid-century renovation. But if you want something that looks, well, a little more modern, you have plenty of options. Apartment Therapy reports that you can now find laminate "that replicates the look of granite, marble, and butcher block so closely that it's often impossible to tell the difference until you're close up." Sounds like a pretty impressive comeback to us!
2. Colorful cabinets
Many people want solid wood cabinets, either stained or painted white. But HGTV reports that one very 1960s cabinet trend is increasingly turning up in modern kitchens: colorful cabinets. "Popular painted cabinet colors in the midcentury would have been pale blue, green and yellow," the network notes. But homeowners today can, of course, choose any color that appeals to them. (So long as it coordinates with their design for the kitchen!)
However, HGTV does have a few words of advice for people considering this risky design move. "These cabinets are best accented by a muted backsplash and wood floors in order to keep the design unique rather than overdone," the network explains.
And if you really don't like painted cabinets? Then don't paint yours! As Apartment Therapy notes, wood tones began reappearing in kitchens in the 1960s, so plenty of people had wood cabinets that were stained, not painted.
3. Space for entertaining
HGTV stars and design-savvy homeowners alike install giant islands and go for open-concept living spaces in the name of one activity: entertaining. People love to have the space to have their friends and family over. (It doesn't matter whether they're cooking up a storm for a dinner party or just ordering pizza as everyone watches a football game.) But as House Beautiful reports, the desire for a kitchen designed for entertaining would have sounded familiar to designers in the 1960s.
"The kitchen was deliberately planned as an entertaining center," the publication reports. "It makes the most of the modern, and easy-to-clean technology." Many mid-century kitchens were open to other living spaces, as home design shifted from closed floor plans to open concept spaces following World War II. However, House Beautiful reports that homeowners in the 1960s were still often willing to keep the kitchen behind closed doors. (The very doors that people tear down today when they want to convert a closed layout into an open concept home.)
4. Statement-making pendant lights
Are you renovating or installing a kitchen island? In that case, you might want to consider another 1960s trend that's making a comeback. Mid-century modern pendant lights make a major statement above an island, peninsula, or breakfast bar.
Popular lighting designs in the 1960s embodied a variety of different styles and aesthetics. You could find organic forms as easily as you could find futuristic shapes. Pendant lighting first appeared in industrial settingsin the 1920s and the 1930s. And, like many other design elements, it made its way to the home only a few decades thereafter. From glass globes to metal pendants, the 1960s gave homeowners plenty of eye-catching designs that wouldn't look out of place in even the most modern kitchen today.
5. Retro refrigerators
For at least a few years now, your stylish neighbors and your favorite HGTV stars alike have been springing for cool retro refrigerators. (The kind you would have seen in anybody's kitchen in the 1960s or (shhhh!) in the 1950s.) The name at the center of the craze? SMEG, an Italian company that  became an American design darlingwhen it first imported its Fab28 model to the United States in 2007, The Boston Globe reports.
"Just under 5-feet tall, the Fab28 has retro, rounded edges like a piece of Chiclet gum, and is made from high-gloss plastic enamel in colors like creamy mint green and navel orange," the Globe reports. "It features a simple interior — with a built-in metal wine rack — and a drawer-size freezer compartment. It is, indeed, underwhelmingly impractical." But, as Apartment Therapy puts it, they add plenty of "personality" to your kitchen, in a way that a sleek, stainless steel fridge just couldn't.
6. Colorful appliances
As The Boston Globe reported in its piece on SMEG, another retro-chic appliance features prominently in tastemakers' kitchens. "The KitchenAid stand mixer remains the staunch status symbol of domestic bliss," the publication explains. But as with that refrigerator, you don't have to settle for black or white when you chose a retro-styled appliance. The ubiquitous stand mixer comes in an array of bright colors reminiscent of cheery 1960s kitchens.
As The Kitchn explains, "There are so many options to choose from that it can be an overwhelming task. Do you go with something classic or fun? Decisions need to be made." Of course, fans of colorful appliances don't have to limit themselves to a statement-making stand mixer. As the Globe explains, "SMEG offers toasters, electric kettles, and even their own version of the stand mixer," each in bright colorways.
7. Plentiful houseplants
We can't talk about mid-century modern style without acknowledging the prevalence of houseplants. And we probably don't have to tell you that no design magazine editor, HGTV star, or home interiors blogger would dream of designing a kitchen today without room for at least a few small plants on the counter. Everybody loves houseplants (even people who find themselves without green thumbs).
Houseplants first became fashionable in the 1960s,and many of the species that were popular back then are still easy to find at home improvement stores today. Look for pothos vines, variants of philodendron, umbrella trees, and even orchids — all of which enjoyed wide popularity in the 1960s — for an easy way to channel the trend.
For More Information About This Blog, Click Here!