Despite the endless number of guides on how to dress "Like A French Girl," we're more interested in the effortlessly chic way that the French decorate their homes. They've got it down to a science: one part hair-blowing-in-the-breeze casual, one part monarchy-style elegance. For Chic Week, a week-long celebration of our 30th anniversary since hitting French newsstands, we asked some of our favorite French interior design experts how to master the oh-so-stylish home look.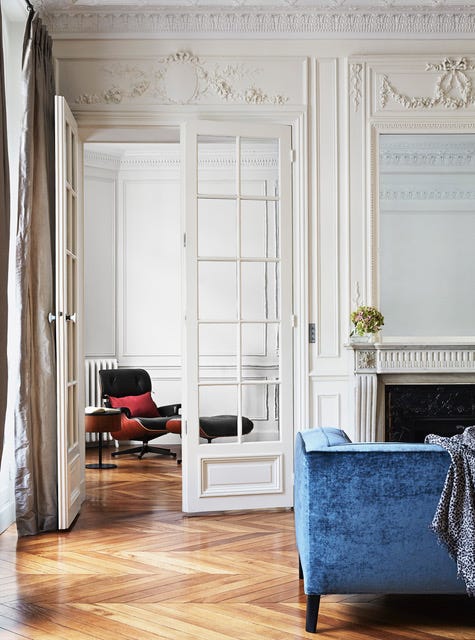 "Almost all of our projects are exclusively in 17th-, 18th- and 19th-century buildings in the heart of Paris, which translates to a lot of history!" says Betsy Kasha of A+B Kasha, an interior architecture firm in Paris. "Each apartment has its own interesting story and specific charm which needs to be respected. A good design should bring together the iconic character and elegance of the space with practical luxury."
For example, if the firm was working on a classic Haussmannian apartment (built between 1853 and 1870), which generally boast elaborate ceiling moldings, A+B Kasha would choose to avoid adding any recess lighting in order to maintain the character. Instead they might opt for dramatic floor lamps.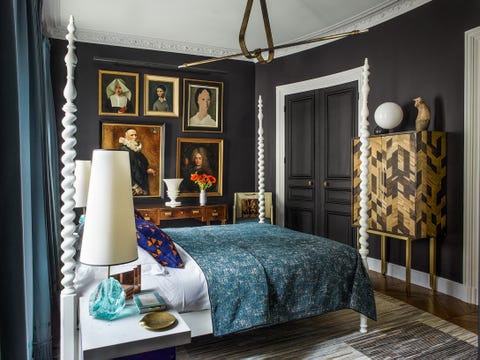 While working with a client who has very traditional Parisian taste, designer Jean-Louis Deniot had to convince him to adopt an eclectic approach. "He realized we needed to be more playful," he says. "But that can be difficult. Nothing can be too arranged and stable. I tried to assemble things that shouldn't be together in the first place, creating awkward juxtapositions."
In the master bedroom, the portraits range from the 16th century to the 1960s. The leather rug is by Serge Lesage and in the corner of the room is a 1920s neo-Egyptian armchair lined in a Gaston y Daniela fabric.
"The whole idea is anti-decor," says Deniot. "To make it look like the owner did it himself — to make it look natural. Which is, of course, very French."
3. 
TAKE CUES FROM 'EFFORTLESS' FRENCH FASHION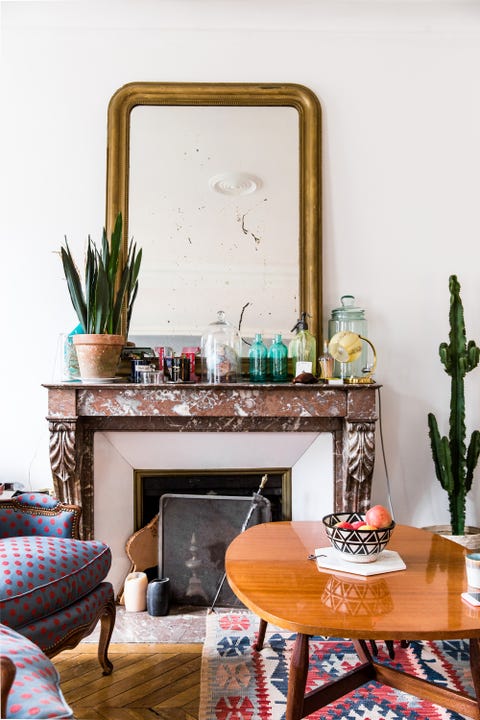 Just as disheveled as they are elegant, French interiors are never too curated or too perfect.
"My number one rule for French interiors is: don't try too hard! The French adopt the same laissez-faire attitude towards interiors as they do with their style," says Marissa Cox, the Brit-turned-Parisian behind Rue Rodier, a French lifestyle and interior design blog. "Keep it simple, mix vintage with new, and allow your memories and treasures brought home from travels to shape the space rather than sticking to any particular interior style."
Cox decorated her own Parisian home with art, books, and plants she enjoys individually, which organically creates a loved and lived-in space.
"The rule I follow when decorating is chiner, which means looking in many second hand shops to find the perfect pieces," says French illustrator Alice Wietzel. "What's important to me is to decorate in a sustainable and ecological way, and chiner, reusing, and reinventing a purpose for elements of decoration is part of that process."
Here, she styled one of her prints available on Tictail with two vintage vases she found in Bordeaux and St. Malo and a cupboard found in her neighborhood.
5. 
DEVIATE FROM NEUTRAL COLORS
Although the French do have an affinity for chic all-white interiors, color is how they're able to bridge the gap between the old and the new. At Wink Déco, a contemporary French interior design blog, their rule is that…there are no rules. They like to blend colors, time periods, and really any design style that speaks to them — and what could be more French than that?
"We like the mix up the furniture of the 50's with more contemporary pieces," the founders Emmanuel and Thomas tell us. "In order to unify the objects from various time periods in a room, we use a few strong and complementary colors that give uniformity to the set. The color connects the styles."
Inside this 1930s house, Wink Déco blended Scandinavian design, vintage pieces, and sleek French style to create a unique bathroom designed for luxury.
6
CONSIDER THE FRENCH LIFESTYLE
French interiors are just as much about design as they are lifestyle. They appear so effortless, but only because they are built to accommodate the way you move through the room. There are nooks to lounge in and creative storage for all of your momentos, to make daily life a breeze. The design itself is far from relaxed, but living in a French-style maison couldn't be easier.
Evane Haziza of ECCE Studio says that good French decor can only exist "if the space is well thought-out in terms of use." From the furniture to the aesthetics, it should all have a function. "The decor must reflect the personality and life of the client. We think that it's better to have fewer elements in a room, like beautiful vintage pieces or handcrafted objects."
This home, designed by ECCE Studio, boasts plenty of mismatched seating for easy entertaining, be it casual or dinner party-style.
"Plus ça change, plus c'est la même chose": The more things change, goes the old French saying, the more they stay the same. Trends may come and go — in politics, fashion, food, decor, you name it — but the fundamentals of life are dependable, rooted as deeply as an ancient oak.
Designer Garance Aufaure's home, a stately, late-18th-century home, has of course changed over time. Each generation has contributed to the modernization of the home. Yet the house remains essentially the same as it has always been. "I am constantly improving it while respecting what the previous generations did. It is the best way to keep it alive."
The daybed and secretary in the master bedroom are Louis XVI, and the side table in the same style is from the 19th century.
For more information about this blog Click Here!